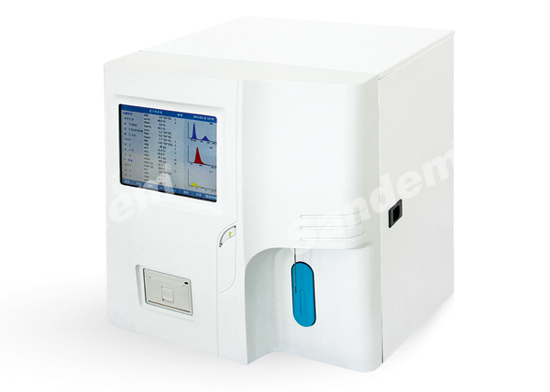 B360 automatic blood analyzer
Unique pipeline design, simple and efficient.
High precision drive control technology, accurate and reliable sample suction and liquid filling.
The high efficiency enzyme added cleaning solution can keep soaking and cleaning the counting micropores to effectively prevent protein deposition.
Intelligent detection and counting of micro hole condition, automatic high-pressure burning and recoil to ensure good condition.
Digital detection technology, effectively remove interference, accurate results.
The unique constant time and constant pressure 2 + 1 counting method ensures reliable results.
Free of routine maintenance, shut down the cleaning fluid, automatically fill the counting cell, and avoid manual operation.
The combination of diluent and hemolytic agent was optimized, the white blood cell histogram was clear and the classification result was reliable.
The results were consistent with that of non-toxic and non-toxic ferricyanide.
8 inch full Chinese touch screen, all parameters are clear at a glance.


* Measurement principle: electrical impedance method, colorimetric method.
* Test items: WBC, RBC, HGB, PLT, HCT, MCV, MCH, MCHC, rdw-cv, rdw-sd, MPV, PCT, PDW
Lym%, mid%, Gran%, lym, mid, Gran, WBC, RBC and PLT.
* Test speed: 60 samples / hour.
* Injection mode: open the tube to absorb the sample automatically, and the inner and outer walls of the sampling probe are cleaned automatically.

* Sample dosage: whole blood 10.6 UL, pre diluted 20 UL.

* Results storage: U disk unlimited storage, built-in 2000 histogram results.
* J-B: quality control method.
* Calibration method: automatic calibration, manual calibration.
* Reagent detection: automatic detection and alarm.

* Display the results of the instrument and the patient in time.
* Input: touch screen full Chinese operation, direct Chinese input and editing.
* External input: support external keyboard and mouse, the operation is more convenient and fast.
* Printing: built in high-speed thermal printer, optional external printer.
* Menu: simple and easy to operate.  

| | | | |
| --- | --- | --- | --- |
|   | Precision CV | Linear range | Carrying pollution rate |
| WBC | ≤2.0% | 0.1-99.9*10^9/L | <0.5% |
| RBC |  ≤1.5% | 0.50-7.80*10^12/L | <0.5% |
| HGB | ≤1.5 | 10-260g/L | <0.5% |
| PLT | ≤4.0% |  5-999*10^9/L | <0.5% |
| MCV | ≤0.5% | 35-200fl | <0.5% |

Ambient temperature: 18 ℃~ 25 ℃, relative humidity range: 80% atmospheric pressure range: 70 kPa ~ 106 kPa
Voltage: AC 220V, 22V; input power: 150VA; overall dimension: 43cm in length, 41cm in width and 46cm in width